The Book of Kells
is considered Ireland's most precious treasure.
Looking at it really does make the eyeballs bleed, in the best way possible. When they talk about works of art making people cry, instead of thinking of about Michaelangelo, I think of the nameless scribes who made the Book of Kells.
Last year an animated movie was released called
The Secret of Kells
. It relates a fictional story about the making of the book, full of little details aimed to please Medievalists and book lovers every where. For example, in the 8th century an Irish scribe
wrote a poem
about himself and his little cat
Pangur Bán
. The little cat in the movie is named, of course, Pangur Bán.
Anyhoo, the animation is jaw-dropping. Absolutely gorgeous. Most interesting of all, the animation is inspired by the art in the Book of Kells. It is at times ornate, rich, with jewel-like detail.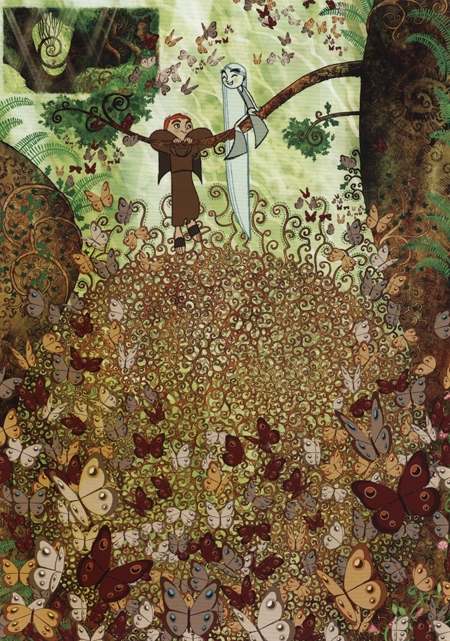 My favorite bits, though, are the bits that use Medieval approaches to depth; the landscapes are flattened, linear, objects and buildings are shown from multiple perspectives at the same time (e.g., from the side and from above).
Like Medieval art, the movie avoids 'true'
single-point perspective
. Seeing it was a great reminder of the many ways that images can tell stories; the Western ideas of perspective and naturalism are not our only option!
Plus, the movie was a love story written for a book, a book that loved images as much as it loved words. And that's why my niece and nephew are getting it. The movie, that is.