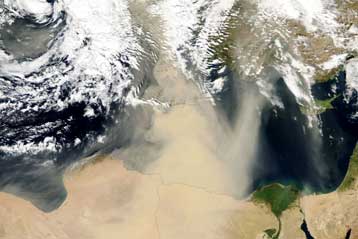 From
grreporter

.com
.
Thanks to Charles Jones, once head of our very own Blegen Library, who sent along this satellite image showing the dust cloud currently looming over Greece. If it looks
indecipherable
, orient yourself via the bright green Nile Delta and the Nile River Valley in the bottom right corner.
From the ground it looks a lot different, I have to say. The picture evokes images of horrifying dust storms in the desert, capable of flaying the skin right off a camel. But not here in Athens. Instead, imagine the haziest haze you ever saw, a slate grey sky that looks close enough to touch, and the heavy oppressive feeling of imminent rain. Or doom. Whichever. Then dump in an extra bucket of humidity and you're good to go.